M. Balasubramanyam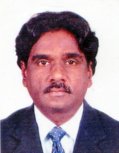 M. Balasubramanyam
Associate Dean, Disease-Biology & Molecular Medicine
SRM University, India
Biography
Dr.M.Balasubramanyam is at present Associate Dean of Research, Medical and Health Sciences (MHS), SRM Institute of Science & Technology (SRMIST), Chennai. During
1999 to 2020, he served as Dean of Research Studies & Senior Scientist at the Madras Diabetes Research Foundation (MDRF), Chennai. He continue to be the "Honorary MDRF Chair Professor & Advisor" at MDRF. He is a member of the Asia-Pacific International Molecular Biology Network (A-IMBN) and had an extensive post-doctoral training (1991-95) at the Hypertension Research Centre, New Jersey Medical School, USA, in the areas of signal transduction in health and metabolic diseases with special reference to molecular pathogenesis of Type 2 diabetes and vascular biology. Having worked as a faculty at the Center for Biotechnology, Anna University, Chennai for 3 years (1996-99) he has joined MDRF in 1999. He is instrumental in setting up the basic and clinical research infrastructural facilities at MDRF and coordinated various research programmes and higher educational training activities from time-to-time. He also awarded with Riya and Paul Ganguly Symposium Lecture Award, The Maharajah of Travancore Curzon Endowment Lecture Award, New Frontiers in Diabetes (NFD-2017) Oration Award, Australia Awards Ambassador – Recognition from the Australian High-Commission, Endeavour Executive Fellowship from the Education Department of Australia, Exiqon Grant Programme Award, Institute of Advanced Studies (IAS) Visiting Fellow Award, University of Warwick, UK, MABMS award - Membership of the Indian Association of Biomedical Scientists, ICSU/INSA award, Third World Academy of Sciences (TWAS, Italy) Associateship award, The Welcome Trust (UK) award, Research Grant award from Third World Academy of Sciences, International Union of Biochemistry and Molecular Biology (IUBMB, Germany), Young Scientist Travel Fellowship Award, Junior Scientist Award, Government of India sponsored Study abroad PDF scholarship award, Young Scientist Travel award.
Research Interest
Interested in studying cell and molecular signatures with special reference to insulin secretion, insulin action and vascular function. Our research integrates physiological and pharmacological approaches with biochemical and molecular biological techniques (transcriptomics, miRNA, RNAi, epigenetics, metagenomic, metabolomics and exposomics) to study mechanisms underlying development and progression of diabetes, its complications and cardiovascular diseases.Insights into biochemistry and molecular biology of diabetes and its vascular complications by studying nutrient-sensing pathways, redox signaling, advanced glycation end products, calcium signaling and epigenetic mechanisms. Prognostic/diagnostic or risk predictive role of miRNAs in diabetes and its complications. Investigating the role of organellar dysfunction (Endoplasmic reticulum (ER) stress and mitochondrial mess) in insulin resistance and Type 2 diabetes utilizing the target tissue specific (skeletal muscle, adipose, β-cell) microarray, proteomics, siRNA and epigenetics studies. Bio-prospecting biomarker(s) potential in body fluids and tissue biopsies (human skeletal muscle and adipocytes) adapting to proteomic tools and identification of prediabetes/diabetes/diabetic complications-specific molecular fingerprints and protein post-translational modifications. Studying telomere biology and test whether shortening of telomeres are related to inter-individual differences in biological ageing that predisposes one to 'lifestyle diseases' and serve as a long-term biomarker. Demonstration of oxidative stress as a therapeutic target, testing natural products (herbals, marine resources/ probiotics) from the Indian biodiversity for their molecular actions and validation of their utility as novel insulin secretatgogues/insulin sensitizers/vascular protectants as well as anti-ageing molecules.Role of gut microbiota in type 2 diabetes. Gut metabolites and intracellular signaling molecules as novel drug targets, Role of Endocrine Disruptors with special reference to BPA in metabolic disorders.