Devansh Mehta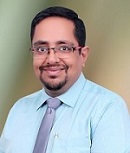 Devansh Mehta
Assistant Professor, Sunder Deep Pharmacy College, Sunder Deep Group of Institutions
Ghaziabad, India
Biography
Professor Devansh Mehta is a voracious reader and writer. He has completed M.Pharmacy & MBA. He has total 8 years of Experience in various roles and positions. He is also Founder & Director of TRM Writer's® LLP. He a Content Writer, An Academic Writer, & Medical Writer. Currently, he is also working as Assistant Professor, in most prestigious pharmacy college. He can teach, Microbiology, Biology, Pharmacology, Clinical Research, Financial Sciences, and Management Sciences.
He aims to be better each day. Prof. Devansh believes that in life there are, either assumptions or actions. So you shall be more of action-oriented and less of assuming things and do nothing. Life is short so make it large.
Research Interest
Pharmacology, Clinical Pharmacology, Plant Medicines, Herbal Remedies, Neuro-Pharmacology, Gastroenterology.