Preejith Vachali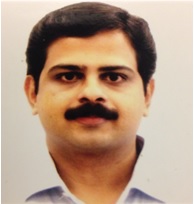 Biography
I received my Ph.D. in biomedical engineering science from Nanyang Technological University, Singapore in 2007. Soon after, I joined in John Moran Eye Center, as a post-doctoral fellow. Currently, I am a research associate scientist at John Moran Eye Center, University of Utah, USA. I study protein-ligand interactions associated with AMD (Age-related Macular Degeneration), which is one of the leading causes of blindness in the world. I also focus on carotenoids and its high bioavailable derivative's metabolism and pharmacology related to eye health using various models. I have a broad background in biology, chemistry, and biotechnology; gained through graduate studies, postgraduate programs and research. I have published and presented scientific articles in international conferences and journals relevant to this field.

Research Interest
Biochemistry and metabolism of carotenoids related to Age related Macular Degeneration.
Single cell detection using biosensor platforms.
High throughput screening strategies for fragment screening.
The effects of nutritional interventions in AMD and other eye diseases.
Raman and surface plasmon resonance spectroscopy.