Biography
Professor Chandra Wickramasinghe is an internationally renowned astronomer who has made pioneering contributions to the theory of cosmic dust. In 1974 he first proposed the theory that dust in interstellar space and in comets was largely organic, a theory that has now been vindicated. In collaboration with Sir Fred Hoyle he propounded the theory of cometary panspermia. Jointly with Sir Fred Hoyle he was awarded the International Dag Hammarskjold Gold Medal for Science in 1986, and in 1992 he was decorated by the President of Sri Lanka with the titular honour of Vidya Jyothi. He was awarded the International Sahabdeen Prize for Science in 1996. He holds the ScD degree from the University of Cambridge and an honorary doctorate from the Soka University of Tokyo, Japan, an honorary doctorate from Ruhuna University of Sri Lanka, along with several other international distinctions. A Fellow of Jesus College Cambridge, 1962-1973; Staff Member of the Institute of Theoretical Astronomy in the University of Cambridge, 1965-1973; Professor and Head of the Department of Applied Mathematics and Astronomy, Cardiff University 1973-1990; Professor of Mathematics, Cardiff University 1990-2000; Director of the Cardiff Centre for Astrobiology, 2000-2010; Honorary Professor and Director of the Buckingham Centre for Astrobiology, University of Buckingham. An award-winning poet and the author or co-author of over 25 books and over 350 scientific papers, 70 of which are in Nature. He has held visiting professorial appointments in a large number of Universities world-wide and has at one time been advisor to the President of Sri Lanka and Founder Director of the Insititute of Fundamental Studies in Sri Lanka.
Research Interest
Astrobiology, Infrared Astronomy, Interstellar Matter, Light Scattering Theory, Applications of Solid State Theory to Astronomy, The early Solar System, Comets, Astrochemistry and the Origins of Life, Panspermia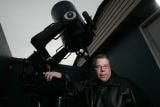 Gary Boyle
Editor-in-Chief
Past President, Ottawa Centre, Royal Astronomical Society of Canada
Canada
Biography
Designed and built two homemade Newtonian reflecting telescopes which I have used at my lectures and observing sessions. Constructed a camera platform (barn door mount) to take hand guided long exposures of the night sky. These photos are used in my courses. Platform appears in Terence Dickinson's book entitled "Splendors of the Universe", page 64. For five years I have enjoyed the night sky from the confines of my home made backyard observatory which permanently houses a research telescope as well as a heated control room. I have even broadcasted over the internet "astrocasting" via Yahoo, live telescopic images while fielding questions from viewers. Presently writing an astronomy book for beginners.
Research Interest
Astro physics