Crouch E, Department of Health Services Policy and Management, University of South Carolina, Columbia, SC, USA, Tel: 502-409-2272
Since the introduction of antibiotics in the 1930s, millions of lives have been saved and positive outcomes achieved [1]. Antibiotics serve many purposes beyond treating "routine" bacterial infections. Antibiotics are often used after a medical treatment, as well as an important addition to the treatment of patients with cancer. Thus, antibiotics are essential to saving individuals from infection [2]. They have been used to improve animal health for food production.
Nearly every class of antibiotics has had bacterium develop resistance [3]. Antibiotic resistance occurs when bacteria or other microbes have the ability to resist the effects of an antibiotic. These bacteria or microbes change and reduce the overall effectiveness of drugs or the chemicals in the drug itself [4]. The cost of antibiotic resistance to the United States health system alone is over $20 billion a year [1]. Further, microbes can develop resistance to drugs, such as different classes of antibiotic resistance.
Many scientists and healthcare providers, as well as policymakers, believe that the resistance levels of microbes to antibiotics has now put patients in danger [5]. Particularly, Gram-negative rods such as Escherichia coli, for example, have become resistant to almost all current antibiotics. This resistance has recently led to a widespread outbreak in Europe [6]. But this resistance is not just confined to Europe or the United States. Recent reports have shown that antibiotic resistance is a global threat [7].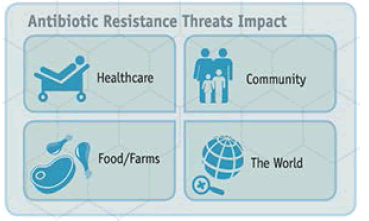 Source: http://www.cdc.gov/drugresistance/solutions-initiative/ index.html
Inappropriate and unnecessary use of antibiotics has only increased the rate of antibiotic resistance in our communities and around the world. Nearly half of all antibiotic use in human medicine is not appropriately conducted [8]. In addition, evidence has shown that widespread use of antibiotics in livestock production has led to the emergence of antibiotic resistance in farm animals [9]. Thus, education about the causes of antibiotic resistance and appropriate use of antibiotic drug use, as well as drug history, is needed.
History of antibiotic resistance
The main feature of anti-microbial drugs is that they lose their effectiveness over time and some bacteria mutate faster than others [10]. This feature is not common in other drugs that affect the central nervous system or cardiovascular system, for example. There are several mechanisms of genetic resistance, including inactivation of the drug, alteration of the site of action or cell wall, increased creation of the target enzyme, and the avoidance of the inhibited steps [11].
While many view antibiotic resistance as a recent phenomenon, targeted studies of ancient DNA have identified genes with resistance to β-Lactams, tetracycline, and glycopeptide antibiotics [12]. Antibiotic resistance is a natural occurrence preceding recent medicinal antibiotic use. The rise in bacterial resistance to clinical antibiotic use is due in part to the lack of development of new antibiotics. In the last twenty years, there have been too few antibiotic analogues to keep up with antibiotic resistance [13].
Antibiotic drug development
Healthcare providers reach the risk of inability to treat several kinds of bacterial infections due to the lack of antibiotic drug development [6]. In general, the development of new antibiotics has stalled for many reasons. The fast adaptation of microbial agents to the new drugs limits the profitability. Pharmaceutical companies are not interested in the development and manufacturing of antibiotics as these drugs are not as profitable as drugs that create chronic diseases. Clinical trials with new antibacterial drugs are difficult as many patients may not know what caused their illness and thus large numbers of patients are needed. This only adds to the expense of the trials. Point of care diagnostic testing is one potential fix for this problem [14].
The difficulty in achieving approval of new classes of antibiotics is significant. When not taking the orphan-drug route, the Food and Drug Administration approval is often long and arduous, only adding to the expense of the development. Furthermore, the value of antibiotics is not reflected in the pricing of antibiotics. Antibiotics are much less expensive than cancer drugs, for example [2]. Yet, both are life-saving.
Only two new classes of antibiotics have reached the market since the 1960's [1,15-17]. In December 2014, Ceftolozane/tazobactam received FDA approval for the treatment of urinary tract infections and intra-abdominal infections [18]. This medication is a combination of a cephalosporin antibiotic and beta-lactamase inhibitor.
With less innovation in antibiotic treatment, antibiotic resistance has experienced a steadily increasing trend. However, appropriate use of existing classes of antibiotics could also improve the length of time current antibiotics could be utilized before resistance occurs [19]. The first cases of antibiotic resistance occurred after the introduction of sulfonamides and penicillin.
There are genetic and biological mechanisms of antibiotic resistance. Genetic resistance is related to the ability of DNA in microorganisms to become resistant and acquire DNA from other microorganisms. The major mechanisms of genetic transfer are transformation (direct passage of free DNA from one cell to the next), conjugation (formation of a pilus connecting bacteria and hence passage of DNA), and transduction (resistant DNA infects bacterial cell) [20].
Biological resistance can occur through antibiotic active efflux, antibiotic destruction or transformation, and receptor modification. Efflux transportation, where the microorganism is capable of developing an active transport that causes antibiotics to move out of the cells, altering the immersion, dissemination, and emission of antibiotics. The interaction of an antibiotic with efflux transporters may increase the risk of antibiotic resistance via reduced bioavailability and drug effectiveness [21]. This is common for tetracycline, macrolide, and fluroquinoline antibiotics, as well as many others. Antibiotic destruction or transformation occurs when bacteria produce an enzyme that degrades or modifies the antimicrobial. This is common and often affects beta-lactams. Finally, receptor modification is when the receptor of the antibiotic drug is altered by bacteria. This has been observed for penicillin resistance, for example [21].
Main classes of antibiotics
β-Lactams: Pencillins, Cephalosporins, Carbapenems, Monobactams.
Β-Lactam Inhibitors: Clavulanate, sulbactum, tazobactam.
Aminoglycosides: Streptomycin, neomycin, kanamycin, paromycin, gentamicin, tobramycin, amikacin, netilmicin, spectinomycin, sisomicin, dibekalin, isepamcin.
Tetracylcines: Tetracycline, chlortretracyline, demeclocycline, minocylcline, oxytetracycline, methacycline, doxycycline.
Rifamycins: Rifampicin, rifapentine, rifabutin, bezoxazinorifamycin, rifaximin.
Macroslides: Erythromycin, azithromycin, clarithromycin.
Lincosamides: Lincomycin, clindamycin.
Glycopeptides: Vancomycin, telcoplanin.
Streptogramins: Quinupristin, daflopristin.
Sulphonamides: Sulphanilamide, para-aminobenzoic acid, sulfadiazine, sulfisoxazole, sulfamethoxazole, sulfathalidine.
Oxazolidones: Linezolid.
Quinolones: Nalidixic acid, oxolinic acid, norfloxacin, pefloxacin, enoxacin, ofloxacin/levofloxacin, ciprofloxacin, temalfoxacin, lomefloxacin, flereoxacin, grepafloxacin, sprafloxacin, trovafloxacin, clinafloxacin, gatifloxacin, moxifloxacin, sitafloxacin, gemifloxacin.
Others: Metranidazole, polymyxin, trimethoprim.
Appropriate use of antibiotics
The antibiotic resistance cycle starts with increased antibiotic use, which leads to an increase in resistant strains. Increased hospitalization, death, and healthcare use follow with even more antibiotics. Then there are limited treatment alternatives resulting in increased mortality and even more antibiotic use.
Therefore, the life of existing antibiotics can be continued only if educational awareness on proper use of antibiotics is received by healthcare providers as well as health care consumers. Antimicrobial stewardship programs, for example, instruct physicians, residents, and medical students on the appropriate use of antibiotics. Furthermore, antibiotics are critical to the success of many medical interventions across all age groups and disease states. Surveys such as the 2009 survey of faculty and residents at Jackson Memorial Hospital in Miami, Florida are one way to measure the attitude and knowledge of antibiotic use and resistance [22]. This study demonstrated that faculty, as well as residents, thought that antibiotics were overused nationally, but not at their hospital. Interventions, such as the antimicrobial stewardship programs, are needed address common misperceptions about antibiotic prescribing patterns.
The responsibility of continuing the effectiveness of current antibiotic classes is not just limited to physicians. Pharmacists have a crucial role in the prevention of antibiotic resistance. Nearly eighty percent of antibiotics are prescribed for primary care, yet most of the use of antibiotics with those conditions has very limited worth. Community and hospital pharmacists are instrumental in teaching the public to finish their antibiotics course, take antibiotics at regular intervals, and examine potential interactions and side effects [23].
Side effects of antibiotic resistance
The side effects of antibiotic resistance include reduced patient outcomes and more potent disease states. Antibiotic resistant infections are associated with an additional 23,000 deaths and 2 million illnesses in the United States each year.
Impact of Antibiotic Resistance
1. Poor patient outcomes
2. More potent disease states
3. Higher rates of mortality
4. Greater need for combination therapy
5. Increase in the rate of treatment failure
6. Increased cost of treatment
Changes in public policy
As numerous infections have become extremely difficult to treat due to antibiotic resistance, scholars have begun to call to "fix the antibiotic pipeline" [24]. Numerous advocacy campaigns and federal guidelines have been recently implemented. For example, under executive order from the Obama administration, a new interagency task force has released the "National Strategy for Combating Antibiotic-Resistant Bacteria." This national strategy includes objectives for federal investments aimed at combating antibiotic resistance. The National Institute of Health (NIH) has also stepped in, sponsoring a prize to encourage the development of a rapid diagnostic test of bacterial infection at the point of patient care [25].
Additional advocacy campaigns have begun. The Infectious Disease Society of America started the advocacy campaign "Bad Bugs, No Drugs" and implemented the "10 by 20" initiative, which calls for ten new antibiotics to be developed by the year 2020 [1]. The intention of this initiative is to produce ten new safe and effective antibiotics from 2010-2020. Researchers argue that this initiative will only achieve success if legislatures approve the following: funding and incentives for drug research and development, research on resistance, and quicker action for the Food and Drug Administration.
Limiting antibiotic injections in animal agriculture has also been deemed necessary. Thus, the Preservation of Antibiotics for Medical Treatment Act. The Food and Drug Administration has established new guidelines that call for a three year time frame for farm producers to completely eliminate the use of antibiotics in livestock feed. These guidelines also call for veterinarian oversight of antibiotic use. Previously, the Food and Drug Administration had directed that the use of specific antibiotics important to human health be eliminated from farm use [10].
Finally, many physicians and healthcare providers are educating their patients about the dangers of overusing antibiotics with the ultimate goal of prescribing fewer antibiotics for non-bacterial infections. The Strategies to Address Antimicrobial Resistance (STARR) Act seeks to improve antibiotic prescription monitoring and increase data collection in order to track and hopefully reduce further antimicrobial resistance [26].