Venkataramana Gadhamshetty, Environmental Engineering, Florida Gulf Coast University, USA, Tel: 1 239 590 7647, Fax: 1 239 590 7801
The MDCs share the principle of bioelectrochemical reactions in MFCs. The MDC couples ionic current in the electrolyte with electric current at the electrodes, via bioelectrochemical oxidation of organic matter at the anode, and electrochemical reduction at the cathode respectively. The discussion on the anode in following subsections is applicable to both MFCs and MDCs.
MDC Working Principle
A laboratory model for a typical MDC reactor is comprised of anode, desalting chamber, and the cathode (Figure 1). In the anode, the microbes break organic matter into protons, electrons, and other byproducts. The electrons from the metabolic oxidation of organic matter, are transferred to the solid anode, and permanently discharged via current collectors into the cathode. The electrons disposed by the microbes in the anode are extracted as DC current by inserting an external load in the electric circuit. The electron acceptors (e.g. oxygen) in the cathode serve as a permanent sink for electric current and ionic current.
A desalination cell is sandwiched between the anode and cathode chambers of an MFC, and the anolyte and catholyte are isolated with anion exchange membrane (AEM) and cation exchange membrane (CEM) respectively (Figure 1). The desalination is achieved by the transfer of negative and positive ions across AEM and CEM respectively. In order to preserve electroneutrality condition due to discharge of electric current from the bioelectrochemical oxidation of organic matter in the anode, the negatively charged ions from the desalination cell (e.g. Cl-, NO3- and SO42-) migrate to the anode. Similarly, in the cathode, the terminal electron acceptors (e.g. oxygen) receive electrons to form reduced compounds, and in turn, positively charged ions from the desalination chamber (e.g. Na+, Ca2+ and Mg2+) pass through the cation exchange membrane to the cathode chamber [36]. In other words, the transport of cations and anions are restricted in the anode and cathode compartments respectively. The working principles and operational details have been described in the recent literature [12]. The overall effect of bio-electro-chemical processes in MDCs results in simultaneous power generation and water desalination [36].
The recent versions of MDCs include three chamber MDCs, microbial desalination-electrolysis cells (MECs), bipolar MDC, and osmotic MDCs (MODCs). The desalting capacity of MDCs can be increased by stacking more than one membrane pair between anode and cathode. The body of scientific literature includes detailed reports on the desalination capacity and efficiency of both unit MDCs and stacked MDCs [37-44]. Upflow MDC reactors have been recently developed to demonstrate the feasibility of microbial desalination at liter-scale flow rate capacity, and promote its potential for large scale application [45,46].
Physiological Conditions (Anode)
The role of microbes in the anode is to retrieve the chemical energy in a non-electrolyte (e.g. glucose) to a form suitable for electrochemical oxidation and then into electrical energy [47]. The microbes convert biochemical energy into Adenosine Triphosphate (ATP) by cascading a series of redox reactions, and finally transmitting electrons from organic substrates (e.g. glucose) to a solid anode. The electricityproducing microbes in MFCs are coined as anode-respiring bacteria (ARB) as they use solid anode as the terminal electron acceptor [48]. The growth rate of ARBs depends on the difference between redox potential of the electron donor, and the actual potential of the anode. At the same time, the lower anode potential (negative potential) provides a high voltage gradient, and therefore maximizes the possibility of high current densities in MDCs. Amongst myriad of factors, the type and concentration of electron donor, electrical properties of MDC, the choice of electrode and membranes, and physiological conditions (e.g. pH, temperature, concentrations of micronutrients and vitamins, and mixing conditions), all exert a strong impact on the anode potential. [26].
Anode Potential: Theoretically, the higher (i.e. positive) anode potential is expected to yield higher energy gain for the growth of anode-respiring bacteria. However, literature indicates that lower anode potentials (i.e. negative potentials) are conducive to the growth of ARB biofilm on the anode surface. Lee et al. [48] conducted comprehensive experiments to investigate the effect of anode potential on the evolutionary pattern of the biofilm community on the anode surface, and its subsequent effect on the electrical performance of MFCs. The experiment used waste water activated sludge as inoculum, acetate as the electron donor, and the hydrodynamic conditions were controlled in continuous-flow reactor. A potentiostat was used to set the anode potential of four MFCs at four different values (0.15, -0.09, +0.02, and +0.37 V vs SHE). They discovered that the MFC set at the lowest anode potential (-0.09) demonstrated a faster biofilm growth and higher current densities (10.3 A/m2) [48]. A potentiostat can be used to maintain the anode potential at a precise value that delivers optimal growth of ARBs in MFCs. In absence of potentiostat, the anode potential is determined by the composition of microbial communities and physiological conditions (e.g. pH, temperature, electron donor, and electrochemical losses) [48].
Electron Acceptors and Biocathodes
Chemical oxidants such as ferricyanide are used as a laboratory models for electron acceptors in the cathode of MDCs. Ferricyanide offer high cathodic potential and faster reduction kinetics in MDC experiments. The use of these chemicals is limited to laboratory use due to their toxic characteristics and high costs. Oxygen has been recognized as a practical terminal electron acceptor (TEA) due to its high reduction potential, and in addition, oxygen can be obtained from air. The cathodes using oxygen as TEA is popularly termed as air cathodes. The major limitation to the air cathodes is that they suffer with a disadvantage of slower redox kinetics under ambient conditions; these cathodes therefore require expensive catalyst materials (e.g. platinum) for minimizing activation over potential associated with oxygen reduction. Another disadvantage is related to the high energy requirements associated with mechanical equipments used to maintain optimal dissolved oxygen concentrations in the air cathodes. Logan et al. [18] offered the following innovative approaches to minimize some of the disadvantages with air cathodesin MFCs, and these strategies are applicable to microbial desalination cells as well: i) the aeration requirements can be minimized by exposing air cathodes in MDCs to atmosphere [18]; ii) aeration costs can also be reduced by using passive methods to achieve oxygen transfer in the cathodes [35,49,50]; iii) ultra-high surface area carbon substrates (e.g. activated carbon) in the air cathodes may reduce the need for platinum catalysts and still acceptable levels of oxygen reduction in the absence of platinum catalysts [18].
Biocathodes represents an innovative approach to produce sustainable cathodes using microbes as catalysts to facilitate electrochemical reduction on the cathode surface. The biocathodes eliminate the need for expensive chemical catalysts, lower construction and operational costs, and offer flexibility in producing valuable commodities [7,51-55].
The biocathode requires optimal physiological conditions that promote microbial growth on the cathode surface. Unlike ARB in the anode, the microbes in the biocathode should have ability to receive electrons from the cathode surface (i.e. electrotrophic). The growth of biofilms on the cathode may be achieved with special techniques such as electrical inversion of electrodes. For instance, hydrogen-evolving biocathodes can be obtained with an electrical inversion of organics-oxidizing bioanode using following procedure: i) obtain a typical MFC with organics-oxidizing bioanode and a ferricyanide-reducing chemical cathode, and ii) switch the bioanode to a hydrogen-producing biocathode, and simultaneously convert ferricyanide-cathode to ferrocyanide-anode [56]. Similarly, Pisciotta et al. [57] used an electrode inversion method to obtain biocathode capable of CO2 fixation and simultaneous hydrogen production. Few scientific studies have confirmed that the biofilm-laden cathode can be conditioned under oxic environment and then switched to a currentgenerating anode [58-60]. This indicates that both exoelectrogenic and electrotrophic microorganisms can be maintained in the electrode biofilms when the cathode is switched from oxic to anoxic conditions. While this approach was successful for producing biocathodes for oxygen reduction (aerobic biocathodes), it was not clear if bioanodes would necessarily contain electrotrophic microorganisms that function under anoxic conditions [57].
Electrode Materials
The type of electrode plays a critical role in determining the electrical performance of microbial desalination cells. The basic requirements for the electrode materials include high electrical conductivity, large surface area with accessible pores, enhanced mass transfer characteristics, chemical stability, mechanical strength, biocompatibility, low cost, and scalability. The currently used carbon electrodes (e.g. graphite felt, graphite rod, graphite foam, vitreous carbon and carbon cloth) were originally designed for chemical fuel cells, and may not be a best choice for MFC applications. These materials suffer from disadvantage of a low specific surface area (< 1m2/g). A graphite brush was used to develop novel anode architecture that provides high surface area (18000 m2 of electrode surface per m3of brush volume), high porosity (95%), and efficient current collection [18]. The nanomaterials may provide opportunities to obtain efficient electrodes in MDC applications. The large surface area and high electrical conductivity may enhance bioelectrochemical kinetics of the surface reactions on the electrodes in MFCs. Nanomaterials such as carbon nanotube and graphene sheets can be assembled into self-standing, self-supporting macroscopic paperlike electrode materials that are scalable for practical applications [61]. Such nanocomposites are endowed with high electrical conductivity (~10 S/cm) and exceptional specific surface areas (~1000 m2/g) [61].
Following CNT nanocomposites have been evaluated as anode materials in MFCs, and can therefore be extended to MDC applications: (a) biological composites, i.e. bacterial cells directly immobilized on non-cytotoxic CNTs, (b) noble-metal based CNT-NCs (e.g. platinum), (c) Natural-polymers based CNT-NCs and (d) conducting-polymers based CNT-NCs. The metal-anchored CNT have also been proven to be improve power generation in MFC applications. The comprehensive details on the application of CNT-based anodes have been provided in the literature [62]. Like CNTs, pristine graphene can be functionalized with covalent and non-covalent groups to obtain nano-composite materials. Zhang and his co-workers described the utility of graphene and graphene oxide nanoribbons as a means to obtain high-performing anodes. Xiao et al. [63] reported the use of crumpled graphene balls in MFC applications. More recently, Krishnamoorthy et al. [64] described the implications of using Nickel/graphene composite as anodes.
The use of metallic electrodes (e.g. stainless steel) has been explored in MFC applications. To name a few, Dumas et al. [65] has indicated the feasibility of stainless steel plate as the anode both the anode and biocathode electrodes in an MFC, and reported power density values of 23 mW/m2. Similarly, Erable and Bergel [66] evaluated the use of stainless steel grid as anode material. Heijne et al. [67] has demonstrated the use of titanium as the anode material in MFCs. Metal and metal oxidation-coated anodes have also been proposed in microbial fuel cell applications [68]. For instance, graphite modified with Fe3O4 and nickel (Ni2+) possessed nearly 2.2 fold higher kinetic activities compared to plain graphite. A recent study by Xueying et al. [69] reported power density of 996 mW/m2 using a nickel-coated sponge as the anode in a MFC.
The type of cathode also influences the performance of MDCs. For instance, it has been reported that the cathode material influences the growth and performance of microbial communities on the surface of biocathode. The electrodes differ in conductivity, surface area and porosity and thereby influence the performance of biocathode in MDCs. These differences affect the adhesion and biofilm growth characteristics of microbial communities on the cathode surface. The precise influence of electrode materials on the composition of microbial communities in the biocathode is an intriguing subject of scientific research. For instance, Sun et al. [51] evaluated four different electrode materials (i.e., granular activated carbon (GAC), granular semicoke (GS), granular graphite (GG) and carbon felt cube (CFC)) on the evolutionary pattern of microbial communities in the biocathodes. Their results demonstrated an influence of electrode materials on the type and composition of microbial species in biofilm communities. The microbes belonging to Bacteriodetes and Proteobacteria were the dominant phyla on all the four materials. Comamonas of Betaproteobacteria have been reported to play a significant role in electron transfer process of biocathodes with GAC, GS and CFC, while Acidovorax played a key role in the GG packed MFC [51].
Design Constraints of MDC Technology
An optimized reactor design is critical to the success of MDC applications. The rate of current production in MDCs is directly related to the rate of desalination and wastewater treatment. The optimum MDC configuration will ensure simultaneous benefits of wastewater treatment (higher contaminant removal), water desalination (higher salinity removal) and higher power production. Intuitively, it may appear that higher current generation can be made possible with application of low external resistance, however, this was not reported to be true [37]. Similar to MFCs, the power densities in MDCs can be enhanced by reducing electrochemical losses such as activation over potential, ohmic losses, and mass transfer limitations. Optimization ofdesign parameters such as hydraulic flow and salinity difference (between the anode and desalination) can enhance the performance of MDCs. The MDC designs with low inter-electrode-spacing (IES), i.e. distance between the anode and cathode), larger anode surface area/volume (m2/m3); efficient chemical catalysts (e.g. platinum) have been reported to minimize electrochemical losses in the cathode. The state-of-art laboratory MDCs demonstrates power densities as high as~31W/m3 (power densities normalized to anode chamber working volume) with oxygen reduction reaction [46] and a current density of~8.5A/m2 (current density normalized to cross-sectional surface area of anode exchange membrane) [70]. Table 1 summarizes the electrical performance of different microbial desalination cells (MDCs) varying in electrode-type, membrane materials, and reactor configurations.
Anion Exchange
Membrane
(Manufacturer)
Cation
exchange
membrane
(Manufacturer)
Anode
Cathode
(catalyst)
Anode
(Acetate/xy
lose, g/l)
Desalination
g/l [Media]
Cathode Medium
Desalination
COD
removal
Open circuit
voltage
Power
Density
Ref.
AnAEM, DF120,
Tianwei
Membrane
CMI7000,
Membranes
International
Carbon felt
Carbon
felt
1.6
5-35
Ferricyanide
(94-88%)
NA
700 mV
2 W/m2
36
AMI-7001,
Membranes
International Inc,
2)
R-5500, Solvay
Advanced
Polymers
CMI-7000,
Membranes
International
Ammoniatreated14
carbon
cloth
(BASF,
NJ).
carbon
cloth
(platinum)
1 or 2
5-20 (Water)
50 mM PBS
43-67%
77%
NA
480
mW/m2
40
AMI-7001,
Membrane
International, Inc
CMI-7000,
Membrane
International
Inc
Graphite
granul
Carbon
cloth+Pt
4
30 g/l
(Water)
99%
NA
30.8 W/m3
46
AMI-7001,
Membrane
International Inc
CMI-7000,
Membrane
International
Inc
Carbon
brush
Carbon
Cloth+Pt
3
35 g/l
(artificial sea
water)
94.3%; 73.8
%
92%
28.9, 11.1
W/m3
45
AR204-SZRA-412
CR67-HMR-
412
Heat
treated
graphite
brush
carbon
cloth(PTF
E)
2 g/l
50 mM (Na+,
50 mM
Mg2+, and 50
mM Ca2+,50
mM Cl−, 50
mM Br−)
50 mM
SO4
2−
100 mM PBS
13%-29%
25%
660 mA/m2
73
AMI 7001
CMI 7000
heated
graphite
carbon
cloth
WW
5.85 (Water)
Ferricyanide
66%
CCV=700
mV,
R=1000Ω
8.01 W/m3
42
DF120, Tianwei
CMI7000,
Membrane
International)
carbon
graphite
fiber
brushes
carbon
cloth
carbon
cloth
20 (Water)
25 mM or 50 mM
PBS
39%-25%
CCV=500
mV, R=1000
Ω
931
mW/m2
41
AMV, Asahi
glass
CMV , Asahi
glass
graphite
fiber
granules
platinum
nanopartic
le
catalysts
1 g/l
35 (Water)
Synthetic sea
water
98%
800-
1140 mW/m2
43
DF120, Tianwei
Membrane
CMI 7000,
Membranes International
carbon felt
carbon
cloth (platinum)
1.64
20 (Water)
PBS
99%
7.43 mA
37
AMI-7001S,
Membranes
International
(CMI-7000S,
Membranes
International
Graphite rod
pushed to
carbon felt
Graphite
rod pushed
to carbon
felt
1.6
35(water)
Aerobic
biocathode
56.2, 92.0%
609 mV
0.94 W/m2
126
AEM, DF120,
Tianwei
CEM, Ultrex
CMI7000,
Membrane
International)
carbon
graphite
fiber
brushes
carbon
cloth(
with
platinum)
xylose
(1 g/l)
20 g/l NaCl
50 mM PBS
12%, Salt
removal:
97 ± 1% at
an HRT = 2
days
76 ± 1% at
an HRT = 1
day
860 ± 11
mW m2
127
AMI-7001,
Membranes
International Inc.,
CMI-7000,
Membranes
International
Inc
carbon
fiber felt
carbon
fiber felt
700, 100
mg/l
with potassium
ferricyanide,
360
mW/m2
128
AEM, Membranes
International
CEM,
Membranes
International
Carbon brush
Carbon
cloth+Pt
Treated
WW from
OsMFC
with 1g/l
Sodium
acetate
10-35-50
g/l (catholyte
of OsMFC
Acidified water,
salt water, anode
effluent
95%-85%
85%
12.45 W/m3
129
AEM, AMI-7001,
Membrane
International
CEM, CMI-
7000,
Membrane
International
Carbon brush
Carbon
Cloth+Pt
2 g/l
6 g/l
Acidified water
42%-58%
NA
3 MDC in
Series=3.25
V,
3 MDC in
parallel=1.14
V
72 mW,
62 mW
130
Table 1: Materials and performances of MDC studies.
In a recent publication, Kim and Logan indicated a need for technological innovations to improve the prospects for MDCs technology [12]. The pH fluctuations in the anode and cathode have been reported to be an operational issue with MDCs. The abrupt pH decrease in the anode hinders the metabolic activity of the anoderespiring bacteria (ARB). In a similar manner, the pH increases rapidly in the cathode chamber. Therefore, MDCs require extensive buffering capacity to maintain the physiological conditions of microbes in a neutral range. Two major approaches have been recommended for mitigating pH fluctuations in the MDC systems. The first approach involves a constant recirculation of the electrolyte between anode and cathode (or mixing the high pH catholyte with the incoming anolyte solution) and the second approach recommends daily replacement of the anolyte in MDC [37]. The first approach has been observed to reduce desalination efficiency, while the second approach results in a significant consumption of buffering chemicals, micronutrients, vitamins, and trace nutrients. Both the approaches may not be viable in large scale MDC applications.
The MDCs can be stacked in a series to increase the desalination capacity. The first stack of MDCs was tested by Chen et al. [37] using two cell pairs between the anode and air cathode; however, the desalination efficiency was reported to below which was likely due to internal resistance caused by thick desalination chamber (~1 cm). Kim and Logan suggested three strategies to alleviate problems associated with stacked MDCs (SMDCs): i) use a thin stack to minimize the ohmic resistance, ii) use seawater as the catholyte and eliminate the need for chemical buffers and iii) incorporate a novel water flow scheme through the stack. A new flow design was used in which the concentrate and dilute flow serially into every desalination cell in the stack which resulted in higher desalination capacity and efficiency [43].
A challenge with stacked MDCs is related to the transfer of the dilute water into the concentrate due to osmosis. This osmotic water loss can be minimized by reducing the hydraulic residence time or decreasing the cross sectional area of the membrane. The effective approach to increase the desalination capacity is to link seawater flows to multiple MDCs in a series, instead of increasing the number of stacks in one unit of MDC [43].
Microbial inhibition due to the migration of chloride ions to the anode chamber is another major issue in MDCs. Further, the use of phosphate buffers in the anode can result in migration of phosphate to the desalination cell that can combine with Mg2+ and Ca2+ to form heavy deposits [70].
Microbial Capacitive desalination cell (MCDC) was proposed by Forrestal et al. [71] to address the salt migration and pH fluctuation problems and improve the efficiency of capacitive deionization. The anode and cathode chambers of the MCDC were separated from the middle desalination chamber by two specially designed membrane assemblies, which consisted of cation exchange membranes and layers of activated carbon cloth (ACC). The two cation exchange membrane assemblies allowed the free transfer of protons across the system and prevented significant pH changes observed in traditional MDCs. Ion exchange resins can be introduced into MDCs to avoid undesirable migration of counter ions to the anode and cathode chambers [72]. However, this results in additional electrical impedance in MDC systems and increases expenditure due to use of expensive resin material.
To increase the water transport in MDCs, a new concept called osmotic MDC (MODC) was introduced [44]. Forward osmosis (FO) membranes have been used to replace the anode exchange membrane to allow passage of water molecules from the anode chamber to recover water which then was proposed to pass through a reverse osmosis process. Comparing the desalination in closed and open circuit configurations, open configuration demonstrated that the majority of the desalination occurred due to electric generation at low initial concentration of salts. However, in high initial concentration of salt, dilution was the main contributor for desalination. Therefore, MODC offers benefits of high water recovery from wastewater and enhanced conductivity removal during desalination of saline waters. The pH of the middle chamber has been observed to be lower in the MODC compared to MDCs. This is due to the fact that the water flux (from wastewater to desalination chamber) promotes proton transport from anode side into the middle chamber. Further investigations are required to address problems with MODCs. For instance, the membrane fouling and the lack of selectively separating anions by FO membrane results in decrease in the rate of overall ionic separation [44]. The MDC outperformed MODC in desalination capacity and this was attributed to the FO membrane that disabled migration of chloride ions to the anode chamber, and thereby creating ionic imbalance between Na+ and Cl- ions. Also, the water transport in MODC can, sometimes, turn out to be a water contamination problem if the contaminants from the anode chamber pass through the AEM to the desalination chamber.
MDCs possess a potential to provide side streams of acid and alkali solutions [70]. In one study, a bipolar membrane was inserted next to the anode chamber in MDC. The water dissociates between two layers by the supply of external electric field resulting in the migration of H+ through the cation exchange membrane layer forming HCl, and OHthrough the anion exchange membrane layer which aids in maintaining constant pH in the anode chamber. Salt water is desalinated in the middle chamber so that NaOH is produced in the cathode chamber. A limitation of this system is that the desalination capacity is directly dependent upon the applied voltage. The extent of desalination in four chamber bipolar membrane MDC has been observed to be higher than the regular MDC due to the pH balance. Even with the external voltage requirements, MDCs can be cost efficient due to its potential to produce valuable commodity chemicals such as hydrochloric acid.
The current density in MDCs is significantly lower than other MXCs. This can be attributed to the conductivity issues related to wastewater and ion migration in the MDC chambers. For example, ionic species (e.g. NOM3- and SO42-) migrate from saline water to the anolyte and compete at the anode as the electron acceptors, and result in reduction of overall electric current in MDCs. In addition, the variation in charge and molecular size of typical ions affects thetransport behavior of ions in the MDCs. It has been observed that the MDC performance decreased by 22% when artificial seawater was replaced with pure NaCl in MDCs. This indicates that the desalination efficiency can be low when MDCs are used for practical applications that require desalination of actual seawater and wastewater [73]. This is evident from the fact that the current state-of-art MDC technology delivers nearly ~ 90% desalination efficiency using salt solution (NaCl upto 35 g/L), while the desalination efficiency has been reported to be just 50% with synthetic seawater. However, it is certain that the MDC technology can be used as a pretreatment unit for a downstream reverse osmosis (RO) process.
To summarize, a series of fundamental studies are warranted to address current issues in MDC technology. The current state-of-art- MDC designs use a large ratio of anode/desalination chamber volumes, and cathode/desalination chamber volumes. Salinity removal of greater than 90% in MDCs requires a desalination and electrolyte (anode and cathode) volume ratio of around 1: 13-66 [74]. Ratio of design volumes for anode, cathode and desalination chambers is an important parameter which determines the distance between the two electrode compartments and the corresponding ohmic losses. The pH fluctuations in the MDCs are also a significant problem. The introduction of anion exchange membranes (AEMs) and cation exchange membranes (CEMs) induces resistance to ion transport transfer between the respective chambers in MDCs. The application of a membrane results in a higher energy input to overcome the electrochemical losses due to the increased pH gradient and ohmic losses. Further, the membrane properties (e.g charge density) influence the ion transport characteristics in MDCs [75]. Recirculation of electrolyte between anode and cathode chambers may bring down the pH fluctuations in MDCs, but at the expense of undesirable side reactions that impede power generation capability in MDCs. The microbial desalination process involves complex network of ionic species transport from one chamber to the other via exchange membranes, and inherent issues of ionic, electron and mass transport will become inevitable [73].
Integration of MDCs with algae harvesting systems
Most of the MDC studies used synthetic wastewater to evaluate the desalination performance, the possible organic removal rates, and energy production; however, it is critical to extend this experience with systems using real wastewater. Luo et al. [42] tested MDCs using wastewater in the anode compartment. When using wastewater as the sole substrate, the power output from the MDC (8.01 W/m3) was four times higher than a control MFC without desalination function. In addition, the MDC removed 66% of the salts and improved COD removal by 52% and Coulombic efficiency by 131%. Desalination inMDCs improved wastewater characteristics by increasing the conductivity by 2.5 times and stabilizing anolyte pH, and thereby reducing system resistance and maintaining microbial activity. Microbial community analysis revealed a more diverse anode microbial structure in the MDC than in the MFC. The results demonstrated that MDC can serve as a viable option for integrated wastewater treatment, energy production, and desalination [42]. It is therefore practical to integrate microbial desalination cells with existing wastewater treatment systems (Figure 2). MDCs can operate as a standalone integrated wastewater treatment - desalination systems, or they can be combined with anaerobic or aerobic wastewater treatment systems to feed on digester effluents.
Integrated wastewater treatment, desalination, and algal growth systems can be considered for efficient management of the microbial desalination systems. Introducing algae in the cathode chamber can increase the electron mobility in the electrical circuit due to increased dissolved oxygen concentrations caused by in-situ oxygen release by algae [76,77]. Traditional wastewater treatment technologies are energy consuming, with large quantities of CO2 released into the atmosphere during the degradation process of organic pollutants. About 15,000 tons of CO2 is released per 1,000 tons of wastewater treated. If the CO2 can be captured and supplied to the cathode chamber as substrate for the algal cell growth, this will result in high value algal biomass and such process can be considered as sustainable process [78]. Since reduction of oxygen in cathode chamber results in hydroxide release andraises pH, CO2 recycling will control the pH rise. On the other hand, nutrient removal using microbial fuel cells has not been given much attention so far. There are only a few MFC studies that focused on this aspect of the wastewater treatment. Further, MFCs have limited capability to remove nutrients such as phosphorus from wastewater. Considering the above two concerns, an ideal solution would be to introduce an algal bio-cathode to sequester CO2 and organic substrates released from the anode chamber along with nutrients to be consumed by algae. Algae have a composition of C: N: P ratio of 50:8:1 while domestic wastewater has a composition of 20:8:1 [79]. With addition of carbon source (CO2), wastewater can serve as excellent medium for algal growth. Microalgae assimilates nitrogen and phosphorus into their biomass as well as carbon dioxide for photosynthesis and produce oxygen, and the net biomass produced in this process can be used for the production of valuable products (e.g., biodiesel, fertilizer). The capability of algae to facilitate electron transfer from substrates to the electrodes (in anode) as well as from electrode to the reducing species (in cathode) is not clear. But, an algal harvesting and anaerobic digester system was studied recently. This system transforms solar energy into energy-rich biogas and electricity. Algal productivities of 24–30 ton VS (volatile solids or organic dry matter) per hectare per year were reached, while 0.5 N m3 biogas could be produced per kg of algal VS [80].
Integration of MDCs with ground water treatment
MDCs can be utilized to treat groundwater with high hardness and other environmental pollutants. A new concept of non-invasive treatment method for removing nitrates from the ground water in MDCs has been proposed recently [81]. This system offers a unique benefit of non-source pollution and complete removal of nitrates in a submerged microbial desalination cell system. The feasibility of removing hardness compounds from groundwater was tested with hard water samples ranging from 220 to 2080 mg/L as CaCO3. It was found that the MDC generally removed more than 90% of the hardness from the tested water samples driven by electron movement in batch operation. Electricity production was highly related to the conductivity of the hard water samples. In this study, the following reductions were achieved by the MDCs: 89% of the arsenic; 97% of the copper; 99% of the mercury; and 95% of the nickel at the testing concentrations in a synthetic solution [82].
Energy Evaluation of MDC Technology
The U.S. utilizes about 5% of total energy to treat water and wastewater resources. Wastewater treatment requires about 0.5-2 kWh of energy per unit depending on the process and interestingly, wastewater contains about the 10 times more energy than it is required to treat. Capturing this energy could result in a sustainable wastewater treatment solution. Energy locked in wastewater is mainly present in three forms: i) organic matter (~1.79 kWh/m3), ii) nutrients such as nitrogen, phosphorous (~0.7 kWh/m3), and iii) thermal heat (~7 kWh/ m3) [83]. Chemical energy can be efficiently harvested while thermal heat may not be extracted except by use of a heat pump and is further subjected to wastewater source temperature. By extracting this hidden chemical energy in wastewater, wastewater treatment can be turned into an energy-producing process rather than an energy consuming process while eliminating environmental pollution.
Contrary to conventional desalination methods, MDC is considered energy gaining process. The microbial desalination cells produce bioelectricity while desalinating the saline water. It is estimated that about 1.8 kWh of bioelectricity can be generated in MDCs by treating 1m3 of wastewater while a reverse osmosis technology requires 2.2 kWh of electricity for the same amount of water desalination. This suggests that desalination combined with MDCs has the potential to become sole power generator along with wastewater treatment. Combining the energy produced by the MDCs and the energy saved by the desalination, a total 4 kWh/m3 of energy savings can be realized (Figure 3). In a case where UMDC is utilized as a pretreatment process for RO process, MDCs can reduce 30% of dissolved solids which will reduce the RO energy requirements from 3.7 to 3.5 kWh/ m3. However, majority of the MDC studies are based on synthetic salt whose composition may be far different from real brackish and seawater sources and wastewater sources [45]. In studies involving hydrogen production, it was determined that the MDC or MEC system has recovered 2.3 times more energy than that was invested originally [40]. In systems integrated with algal harvesting, the energy recovery benefits could be even higher since algae have an energy content of 5-8 kWh/kg dry weight. This energy can be recovered in the form of biofuels such as biogas, biohydrogen, and biodiesel [84].
Comparison of MDCs with Conventional Desalination Technologies
Desalination is a well-recognized technology for obtaining freshwater in many parts of the world. The recent technological innovations have resulted in a significant reduction in energy costs associated with desalination technologies. Current desalination technologies (both membrane and thermal based technologies) are energy-intensive. Minimum theoretical energy required for separating the salts from seawater to produce freshwater is 0.706 kWh/m3 [85]. In practice, much higher energy is required by currently available desalination technologies. In terms of magnitude, about 1 ton of oil is required for every 20 tons of freshwater produced even if all the heat can be extracted from the oil [86,87]. The energy requirements for different desalination processes are shown in Figure 3. Negative energy values indicate consumption or requirement by the process. Well established desalination technologies such as MSF – multi-stage flash distillation; MED – multi-effect distillation; MVC – mechanical vapor compression; RO – reverse osmosis; ED – electrodialysis; MESS – multi-effect solar still require large quantities of energy in the form of thermal and/or electrical energy (Figure 3). The most energyefficient reverse osmosis desalination systems still consume 3-4 kWh/ m3 of desalinated water. The technology advancements and research in utilization of efficient system design, high efficiency pumping, and energy recovery devices has been studied extensively and near optimal performance characteristics have already been established. Further design improvements in these categories will only provide marginal reduction in energy consumption [88]. Research avenues that show the most promise for reducing energy usage lie in the development and testing of novel desalination technologies with reduced feed pressure requirements such as microbial desalination cells. In microbial desalination cells, external energy is not consumed rather additional energy is produced while providing wastewater treatment and water desalination simultaneously [36].
Othe 'Mxc' Applications
As described earlier, MXCs refer to bioelectrochemical systems that share the principles of MFCs, with a slight variation in the anode and/or cathode configuration. For instance, MFCs can be modified to obtain microbial electrolysis cells (MECs) and microbial solar cells (MSCs). The cathodes in MECs can be used to produce valuable energy carriers (e.g. H2 and CH4) by incorporating principles of electrolysis in MFCs [89]. In MSCs, the anode and/or cathode chamber is populated with photosynthetically-active bacteria or algae or plants to produce valuable organic compounds in the anode, dissolved oxygen in the cathode, and finally, DC electric power output. MDCs address the environmental issues related to wastewater treatment, bioremediation, and desalination; MSCs use algae, photosynthetic bacteria, and plants, to obtain a sustainable technology for carbon sequestration. MSCs are highly valued because they use solar energy to obtain a simple and affordable technique for sequestering carbon. The following sections provide a critical insight on the scientific principles and operational issues related to algae-based MXCs, and microbial solar cells (MSCs).
Algae-based MXC
Algae-based MFCs mimic syntrophic relationship between photosynthetic bacteria and algae commonly observed in natural water bodies. For instance, during sunlight hours, algae convert carbon dioxide into organic matter and simultaneously release oxygen. The benthic heterotrophs degrade the organic matter (i.e. naturally evolving from algae and anthropogenic waste) into carbon dioxide and water. The resulting carbon dioxide is utilized by algae to produce organic matter and oxygen. Similarly, the algae play an important role in nitrogen and phosphorus cycles in natural water (Figure 4). It has been recently hypothesized that the natural systems can be engineered to reap the benefits of energy production and water treatment by using MXCs technology. In particular, the electrochemical reactions occurring between the microorganisms and algae have been reported to generate electricity that can be captured in microbial fuel cells [90]. Thus, algae can be used to treat biodegradable matter and nutrients in MFCs with minimal net energy input.
In MFCs designed for wastewater treatment, the effluent from the anode chamber can be used as a growth medium for the algal biomass to obtain following advantages: 1) the effluent from the anode chamber saturated with carbonate system can be readily converted by algae into organic matter; 2) nitrates and ammonia nitrogen in the effluent can enhance the cell production; 3) phosphorous compounds may be absorbed by the cell and utilized in cell growth; 4) algae in turn release oxygen which could be readily available as electron acceptor; 5) continuous flow configuration alleviates the pH fluctuations in both the chambers; and 6) algal biomass can be used for a variety of high value bio-products and fuel generation.
Role of Algae in MXCs: Algae in bioelectrochemical systems can be used to: i) serve as electron donor (at anode); ii) remove organic matter (heterotrophic algae at anode); and iii) produce electron acceptor (photosynthetic algaeat cathode). The photosynthetic microalgae (Chlorella vulgaris) have been recently used in cathodic half cells in microbial fuel cells [91-93]. Growth kinetics of Chlorella vulgaris suggested an optimum value of dissolved CO2 concentration as higher CO2 concentrations have resulted in inhibitory effects [91]. These studies used Saccharomyces cerevisiae in the anode chamber. The Chlorella sp. is generally preferred for carbon sequestration because of their tolerance for high levels of CO2 and high efficiency in utilizing CO2 through photosynthesis. C. vulgaris in MFCs in combination with S. cerevisiae fermentation can result in both bioethanol and bioelectricity production. The practical problem with this system is that the growth rate of S. cerevisiae is significantly higher than the growth rate of C. vulgaris. This phenomenon may retard high current densities and reliable current flow. This issue was addressed later by developing a continuous flow microbial fuel cell system to recycle algae cells to increase their density which eventually increased the power production [93]. Table 2 provides details on algae based microbial fuel cells studies.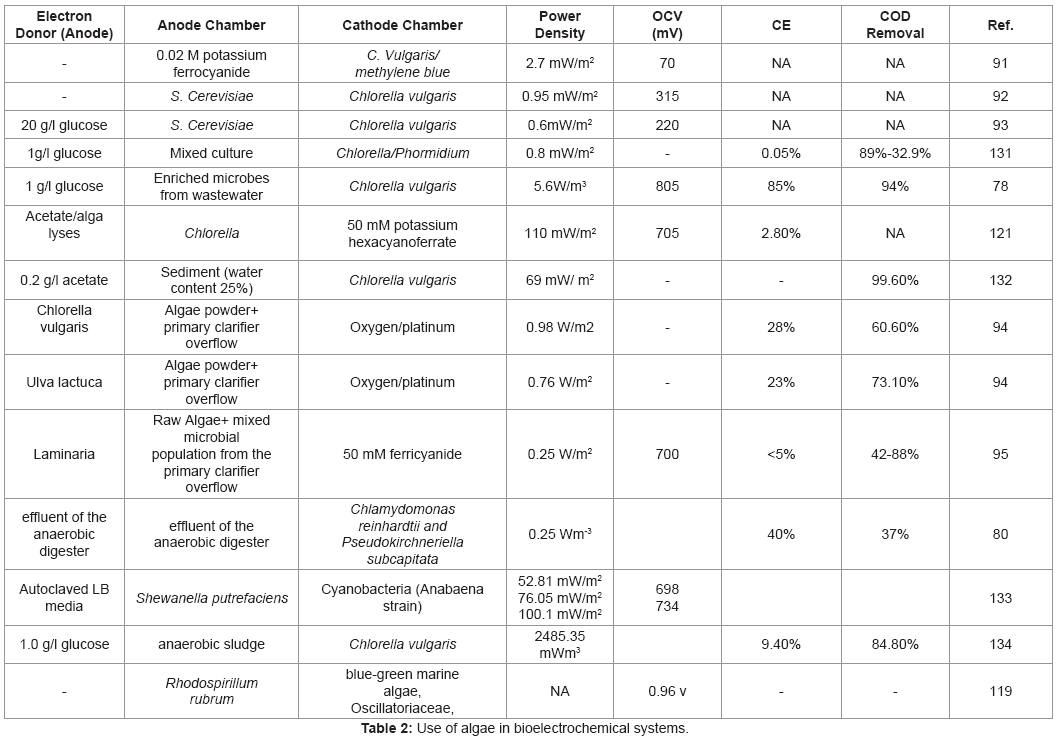 Marine algae have been demonstrated as viable electron donors in MFC application. For instance, Velasquez et al. used two types of marine algae in dry powder form (microalgae - Chlorella vulgaris and macroalgae - Ulva lactuca) as the sole feedstock in the anode chamber of microbial fuel cells. They reported that the C. vulgaris microalgae recovered more energy per substrate (2.5 kW-h/kg-Dry Weight) compared to U. lactuca (2.0kW-h/kg- Dry Weight) and hence COD removal was much better. The maximum power densities in their experiments reached as high as 0.98 W/m2 (277 W/m3) [94]. Similarly, Gadhamshetty et al. have demonstrated the use of unprocessed algae (Laminaria) as a feedstock in MFC applications. They found that the salt content associated with marine algae can boost MFC performance by increasing the solution conductivity and reducing ohmic resistance [95].
Microbial Solar Cells - MSCs (Photosynthetic-MFCs)
The microbial solar cells (MSCs) is another version of MFCs that are fueled by in-situ photosynthesized metabolites from algae, cyanobacteria, or living higher plants. Microbial solar cells involve the following major steps: 1) production of organic matter by photosynthetic- active bacteria or algae; 2) anodic oxidation of organic matter by electrochemically active bacteria; and 3) cathodic reduction of oxygen. The only energy input in MSCs is solar energy [96,97]. The earlier section (section 6.1) described the innovative role of photosynthetic microbes as electron acceptors in the biocathode. In MSCs, these microorganisms are employed in anode chamber for generating organic matter. Considering that sunlight offers an unlimited source of energy, development of self-sustainable microbial fuel cells that rely on light instead of pure organic matter as an energy source has become an increasingly popular area of research in recent years [98-101]. This renders MSCs as an alternative to develop a self-sustainable machine for energy production. In addition, due to photosynthetic carbon sequestration, they offer a sustainable pathway to produce carbon-neutral energy [102].
The MSCs can be classified into four groups based on the photosynthetic microbes used in the anode chamber: i) sub-cellular, ii) prokaryotic (cyanobacteria), iii) eukaryotic (algae), and iv) mixed systems. Use of sub-cellular organelles has included thylakoid membranes [103], photosystems (PS1 and PS2) [104,105], bacterial reaction centre [106] and isolated chlorophyll and its derivatives [107]. However, lifetimes of MSCs incorporating organelles are short as organelles cannot self-repair. This is a major disadvantage, and makes the use of whole cells highly advantageous [108]. Recently, Strik et al have categorized the MSCs based on the mechanism of solar energy utilization and the mode of organic matter transfer: i) a higher plant with rhizodeposition; ii) a phototrophic biofilm; or a iii) photobioreactor, which use pumps for translocation. The in-depth bioelectrochemical principles of all the MSCs are yet to be fully revealed. Figure 5 provides an overview of recent trends in current and power densities generated in MSCs using plants (A), photosynthetic biofilms (B), and photobioreactors (C) [109]. A maximum of 0.01% power conversion efficiency was reported in these studies. Figure 5a shows that the Ferricyanide has produced more power but it can be noted that oxygen has also shown comparable current and power production in one of the studies. Figure 5b shows the current and power densities for phototrophic biofilm studies using oxygen with and without platinum catalysts and Ferricyanide. Figure 5c shows high current and power densities reported by studies involving photobioreactors.
Plant based photosynthetic microbial fuel cells
The living plants use solar energy to fix carbon dioxide in the form of carbohydrates and some of the fixed carbon is transferred to the roots of the plant with time. The plant root system produces and releases different types of organic compounds into the soil, which include (1) exudates: sugars, organic acids, etc.; (2) secretions: polymeric carbohydrates and enzymes; (3) lysates: dead cell materials; and (4) gases: ethylene and CO2 [110]. All these products form rhizodeposits, which are used in the plant-MFC as a renewable bioenergy substrate. Rhizodeposits contain carbon and a part of this carbon can be utilized by micro-organisms in the rhizosphere, which can lead to mutually beneficial interactions between plants and micro-organisms. Bacteria, for example, can positively interact with plant roots by forming protective biofilms or by producing antibiotics as biocontrols against potential pathogens [111]. In the plant-MFC, the principal idea is that plant rhizodeposits are utilized as substrates by the bacteria to generate electricity in the microbial fuel cell. Proof of principle and concept studies were performed to produce renewable electricity via living higher plants in MFCs [96,110-113].
Algal photosynthetic microbial fuel cells (p-MFCs): Algae can serve as excellent photo electrochemical energy harvesting factories. Unlike electrochemically active bacteria, electron transport in algae to an electrode has been considered difficult. This has been attributed to the lack of conductive extracellular matrices in algae. Use of nanoelectrodes to collect high energy electrons was demonstrated but this method may result in large scale application issues. Another way to overcome electron transport issue is to use mediators in the solution. But this will cause short-circuiting reactions which occur between the reduced form of mediator and photo- synthetically evolved oxygen reducing p-MFC efficiency. Although use of mediators in the anode chambers is troublesome, the same is beneficial in the cathode chamber [91,114-119].
Algal based photosynthetic systems have been more popularly used in mixed cultures where algae live in synergistic cooperation with electrochemically active bacteria. This fact was believed to be the cause for the p-MFC systems to produce high power production without addition of electron mediators. The electrochemically active bacteria are heterotrophs which utilize the organic products released by the algae and algae utilize the products produced by these bacteria as explained before [90,120-121].
Many other natural photosynthetic biofilms studies and sediment type p-MFCs used photo-biocathodes and/or photo-bioanodes composed of uncharacterized photosynthetic natural biofilms, most likely containing algae [98-101,120]. Although high current densities were obtained with some systems (for example, a p-MFC containing a natural a pond biofilm and polyaniline coated anodes produced 5.9 mW m-2 [101]), as the photosynthetic material was uncharacterized, the studies are irreproducible by other groups. Overall, it can be seen that p-MFC research is at its infant stage, and much is required to discover electron transfer mechanism and cellular behaviour. In contrast, if the p-MFC consists of a pure culture in a simple set-up, then it can be characterized extensively. Throne investigated the interaction of algae and its photosynthetic activities with potassium ferricyanide to answer some of these fundamental questions [102].
Photobioreactors
Strik et al. [122] developed a photosynthetic algal microbial fuel cell (PAMFC) using algae cultures from an open system and electrochemically active bacteria as low-cost self-sustaining catalysts with graphite electrodes. This system was tested continuously for over 100 days and a maximum current density of 539 mA/m2 projected anode surface area and a maximum power production of 110 mW/m2 photobioreactor surface area were obtained. This system achieved a photosynthetic efficiency of 6.3% (photobioreactor) which was 42% of the expected maximum with an overall system efficiency of 0.1%. The study reported that the energy recovery of the PAMFC can be increased by optimization of the photobioreactor; by reducing the competition from non-electrochemically active microorganisms; by increasing the electrode surface; and by establishment of a further-enriched biofilm.
An integrated process combining an algae photobioreactor, microbial fuel cell, and an anaerobic digester was studied by De Schamphelaire and Verstraete [80]. In this system, algae was allowed to grow in a photobioreactor under illumination, and algal biomass was circulated through an anaerobic digester to produce biogas by biomass degradation into smaller organic compounds (digester supernatant) which in turn were circulated through the anode chamber as a substrate source for MFC. The living algal biomass was circulated through the anode chamber to provide oxygen source. This system produced biogas (methane) along with clean bioelectricity.
Photobioreactors can also be designed to provide advanced treatment of wastewater. Jiang et al developed a photobioreactor system to remove nutrients from wastewater. The effluent from the cathode chamber of a sequential anode-cathode microbial fuel cell was circulated through an external photobioreactor to remove phosphorous and nitrogen by using microalgae. The photobioreactor has produced a maximum power of 20.3 W/m3, and the integrated system removed 92 % of total phosphorous (TP) and 99 % ammonia nitrogen (NH4-N). These results demonstrate both the effectiveness and the potential application of the coupled system to continuously treat domestic wastewater and simultaneously generate electricity [123]. This group also developed a membrane-less upflow MFC combined with a photobioreactor and obtained total phosphorous and nitrogen removal efficiencies of 99.3% and 99.0% respectively [124].
The operational challenges encountered in Microbial solar cells have been reported to be similar to that of microbial fuel cells. A general problem with photovoltaic MFC is the pH membrane gradient which reduces cell voltage and power output. To address this issue, Strik et al developed a PMFC with a reversible bioelectrode responsible for both biocatalyzed anodic and cathodic electron transfer. Anodic produced protons were used for the cathodic reduction reaction which held the formation of a pH membrane gradient. The microbial fuel cell continuously generated electricity and repeatedly reversed polarity dependent on aeration or solar energy exposure. Identified organisms within biocatalyzing biofilm of the reversible bioelectrode were algae, (cyano) bacteria and protozoa. These results encourage application of solar energy powered microbial fuel cells [97]. To improve the performance of the photo bioreactors, essential steps will include reduction of energy input in pumping; increasing photosynthetic efficiency; improving electron transfer mechanism from algae to the electrochemically active bacteria.
Summary: Mxc Technology towards Practical Applications
The number of patent applications for MXC technologies has been increasing steadily over the past decade [125]. Figure 6 indicates the rapid advancement of MFC technology in context of design, material and operational aspects of the microbial fuel cells which emphasizes the near- possibility of industrial scale development of these systems. However, the experience with field-scale MXC technologies is still limited. The capacity of a largest size MDC has been reported at a liter scale [45]. Further studies are required to demonstrate the positive net-energy-gain in a large scale MDC. It may be beneficial to combine MDCs with systems that yield hydrogen or harvest other fuel feedstock such as algal biomass. The recent research advances show a definitive promise for MXC technology for the future. For instance, it is interesting to note that the normalized power densities in microbial solar cells are in comparable range to thosein contemporary renewable technologies (e.g. wind and photovoltaic technologies) [109]. The possibility of simultaneous (concurrent) electricity generation and biomass production offers opportunities for the production of valuable by-products such as biogas or biofuel. The integration of photosynthetic microbial fuel cells with green roofs offers advantages of decentralized bio-electricity production, green roof systems (e.g. storm water retention), thereby increasing aesthetic value, biodiversity, and improving air quality and building insulation. This integrated configuration provides all these new advantages without compromising existing benefits of the green roofs [126]. Overall, the MXC technologies are advancing at stead-fast rates and technological breakthroughs may soonenableMXCs as practical solutions to multitude of environmental problems.